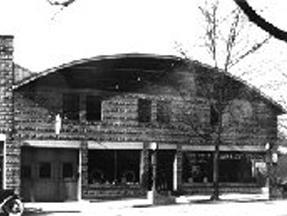 ORIGINS
The story of Walker Brothers Chevrolet of Edinboro, PA starts in 1914 when Floyd D. "Jinx" Walker bought his first car, a Ford Model T. He originally used his Model T as a taxi, night and day. After having the car overhauled three times in the first year, he sold the car and made his very first car sale. This simple sale would be repeated thousands of times in Edinboro in the years to come.In 1915 Jinx began selling Buicks through Arbuckle's distributorship as a sub-dealer. In April 1916, he became the Official Buick dealer in Edinboro. Around 1920, Jinx's brother, Russet R. "Bus" Walker returned from teaching school in Montana to join Jinx in a business that then became Walker Brothers Buick. In 1921 they moved from their Waterford St. location to a new building designed by Bus, on Erie St.
DOWNTOWN EDINBORO (1921 TO 1961)
During that time, the brothers sold Fordson tractors, John Deere implements, Sampson trucks and tractors, Frigidaire appliances, GMC trucks, Pontiacs, Plymouths and Marquettes, all while holding the Buick franchise.
In 1937, the brothers split, with Jinx retaining the automotive end of the business and Bus taking the farm and John Deere franchise which evolved into R.R. Walker and Son. Jinx operated the Buick franchise as sole owner until 1939, when W.F. "Joe" Skelton came in as a partner. They remained partners until 1956, when they sold to Richard H. "Dick" Walker, Jinx's son. In 1959, the Chevrolet franchise was added. Two years later, on August 7, 1961 the garage caught fire and was completely destroyed.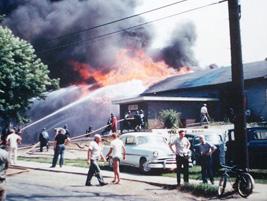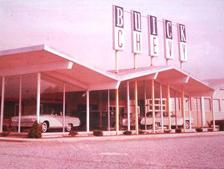 EXPANSION INTO NEW FACILITIES
As a result of the fire, a new, state-of-the-art facility was constructed on the northern edge of the borough of Edinboro. It was completed in July 1962, just 11 months after the fire.
One year later, the dealership expanded further with the addition of an in-house body shop and reconditioning wing. In 1973 there was another expansion with the addition of an indoor showroom and a new reconditioning facility just north of the existing building. Dick operated the corporation as the sole owner until 1983 when three of his sons Richard A. "Rick" Walker, Craig D. Walker and Randy J. Walker began acquiring ownership in the corporation.
With the coming of the new millennium and a facility that was getting tired it was time to remodel. In 1997 a major renovation was undertaken to completely update the facilities' infrastructure and give the dealership a brand-new, modern look.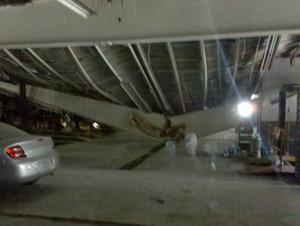 SERVICE ROOF COLLAPSE TO PRESENT
On Saturday February 27, 2010 just after closing, Randy and Craig Walker were locking up when they heard what sounded like an explosion accompanied with blown out glass windows and air rushing through the showroom. Once the dust settled it was found that the roof on the service department had collapsed under a very heavy snow load. The fire department responded quickly to shut off the gas main and secure the site. The next 18 months would prove to be a challenging time for the dealership. The entire service department had to be relocated to a much smaller facility while plans were carried out to deal with demolition of the old facility and construction and renovation of the new one.
A year and a half later, in September 2011, our new service department was complete and new showroom facade was brand-new as well! The new service reception and service department were an amazing improvement. The new service department was placed further from the road, which has given us far more customer and display parking.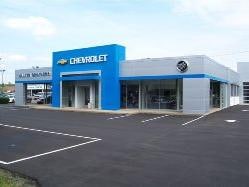 ADDITIONAL PHOTOS:
Today, Rick Walker serves as President of Walker Bros. Chevrolet and Service Director, Craig Walker as Dealer, Vice President and Sales Manager and Randy Walker as Vice President, Corp Secretary and General Manager. Walker Brothers started out as a proud family tradition and it continues to be such to this day.
Default